To be honest, while I appreciate small sample sizes in baseball, it seemed too early to jump on this one: The Cuban player José Miguel Fernández is hitting .500 after his first 81 home appearances in the Korea Baseball Organization.
That sounded amazing!
With the Doosan Bears going 10-7, Fernández, 32, has 36 ​​hits in his first 72 times at-bat this season, his second with the Bears. Fernández, who became internationally known as Cuba's star second baseman in the 2013 World Baseball Classic, arrived in Korea after a short showing with the Los Angeles Angels during his only Major League Baseball experience.
In 36 MLB games, Fernández hit just two home runs, posted 11 RBIs, and a .697 OPS at age 30. It had been nearly a decade after since he starred in his first breakout season when he had 132 hits with Cocodrilos de Matanzas in Serie Nacional de Béisbol's 2010 regular season. After his departure following his short time with the Angels, Fernández ventured to travel to Korea and test himself at KBO. Over the past decade the league had become a sort of haven for Latino players.
After hitting .344/.409/.483, with 15 home runs and 88 RBIs in the center of the Bears' lineup during 2019, the Cuban infielder is even hotter this year: .480/.506/.733, with four home runs and 18 RBIs in his first 18 games. Obviously, that slash line will be unsustainable once he accumulates more at-bats. What is clear — even when we appreciate that we're only talking about 85 plate appearances — is that Fernández has been comfortable at the plate. In fact, he went hitless in just two of his first 18 games. The first time was against the Lotte Giants (0-for-3) on May 13 and, recently, when he came away with an 0-for-3 showing against SK Wyverns pitchers last Monday, May 25
In the rest of his 16 games, Fernández has been relentless, especially against left-handed pitchers, hitting .500 (10-for-20). He has also hit .516 with runners on base and .471 with runners in scoring position. His swing has been able to cover the entire strike zone, spray the ball to any part of the field, and, above all, be a threat in several decisive counts — he's hitting .857 against the first pitch, going 6-for-7 with two home runs! With that performance, Fernández has become not only one of the Doosan Bears' top players for the 2020 season, but also one of the most outstanding players to follow in the KBO.
Certainly, the KBO is becoming an increasingly offensive league. So here's where we start: Who were the best hitters for the Doosan Bears over the past decade in the KBO?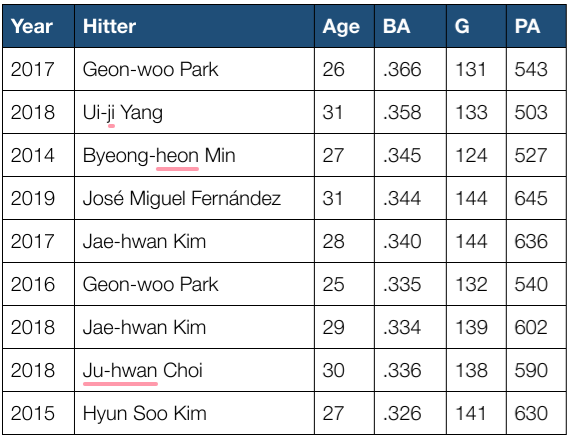 Geon-woo Park was amazing in 2017, but Fernández came close to taking home the top spot with his .344 average. But what sounds even more amazing is not Fernández's ability to crush baseballs, but what he could achieve even if his current pace drops 30%: legendary status in his time with the Doosan Bears.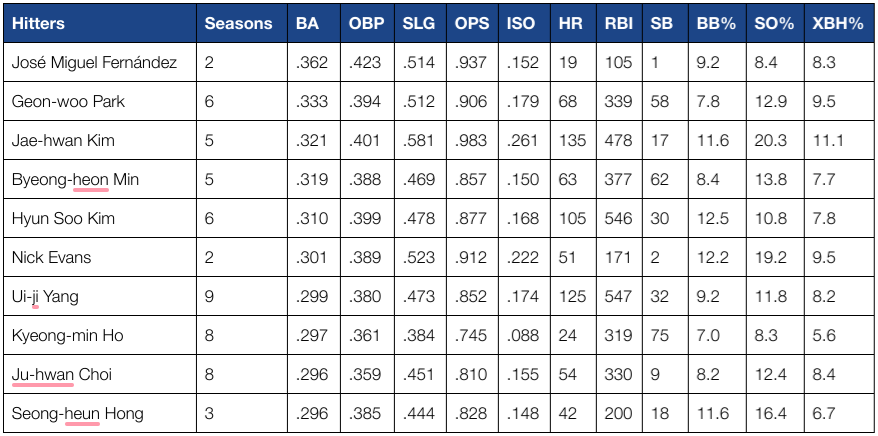 The above are the results of the best hitters of the last decade for the Doosan Bears. In addition, I added the statistics of this season until the closing of last Sunday (May 24), according to Baseball Reference. The listing is ordered by the batting average of qualified hitters with at least 700 PAs. In this Top-10, there are three players with three or fewer seasons, including Fernández, and Ui-ji Yang has the most veteran status with nine seasons.
As you can see, Fernández widely leads all qualified hitters with an impressive .362 average, being the only player so far capable of exceeding the standards of .350/.400/.500. With that .362/.423/.514 line, Fernández has not only shown the caliber of his swing with the Bears, but also his overall quality within the KBO since his arrival in 2019: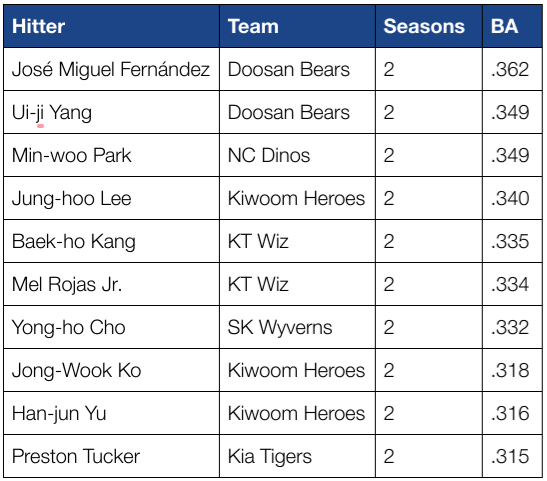 Revealing results! The bears are dominating in a league with a .323 average, two of their top hitters appear in the Top 3. However, as you can detail at first glance, the difference is notable between the .362 average produced so far by Fernández and his teammate Yang.
The story that José Miguel Fernández is writing goes well beyond being a possible candidate for the 2020 KBO batting crown. In addition to standing out as a key piece in the Bears lineup, Fernández's impact is bound to attract even more Latino players looking to prove themselves in Asia's professional baseball leagues.
For now, let's just enjoy every moment of emotion from Fernández and the top players this KBO season. Remember Eric Thames' impressive return to MLB, after winning the KBO Most Valuable Player Award and becoming a 40-40 hitter with the NC Dinos in 2015? Could Fernández make enough of an impact to capture the attention of some major league franchise and pack his bags for a possible return? To be honest, although it would be the ideal plan for the Cuban star, under the current context while baseball has been shaken by COVID-19, he would probably say no. However, it remains a possibility.
That's right, let's enjoy the moment! Baseball!
Lead photo courtesy of Unknown – Yonhap News