For those unaware, and I think that means most of you, I recently got married. My wife's wedding gift to me was a wood-engraved map of America. It's not just any map, mind you, it's a baseball map. What is a baseball map, well, a baseball map is a blank slate for my wife and me to start charting all the professional baseball stadiums we see a game at together. The initial idea was simply to tweet about being at the game, then add a pushpin to the right spot on the map. Then, my mind got to thinking, why don't we do a little something more with this.
More, in this case, means a new column that we're calling The Thompson Family Pro Baseball Map Journey. Every time we visit a pro baseball stadium for the first time a pin will get added to the map but also both my wife Emilie and I will contribute to an article where we spell out what we liked about the stadium, what we didn't, and what our overall thoughts are on the stadium. In addition to all of that, I will provide some minor background on the stadium.
Dig in for the first edition of the Thompson Family Pro Baseball Map Journey, American Family Field.
Background
American Family Field, or AmFam Field for short, was first christened in 2021. Well, actually, that's just when its name changed. Previously the stadium was known as Miller Park. Located in Milwaukee, Wisconsin, AmFam actually first saw action in 2001. The 41,900 seat stadium is a featured attraction in Milwaukee. As a side note, it's of special importance to Emilie and me. We have made our home in Milwaukee, both love the city dearly, and though neither of us is a fan of the hometown team (though Emilie does like them a fair amount) we still love going to games at AmFam Field.
Tenants
Milwaukee Brewers (2001-present), National League
Game
April 12th, 2021
Chicago Cubs 3 vs Milwaukee Brewers 6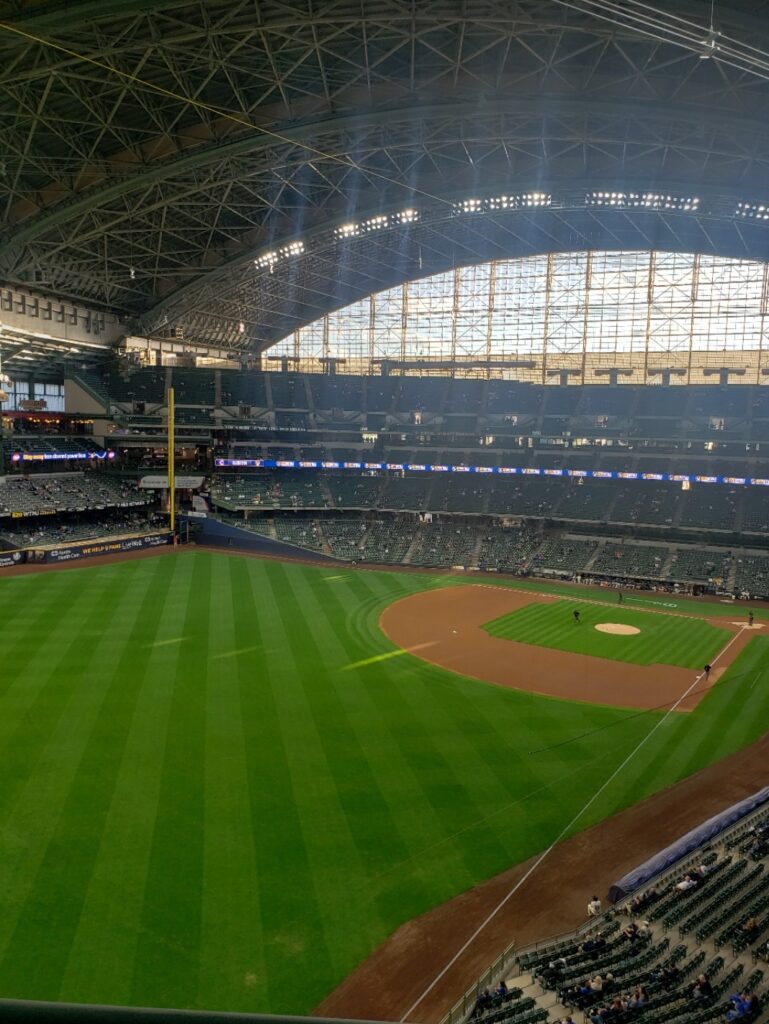 Emilie
Prior to meeting Bill, I averaged about three Majopr League Baseball games a season, and only really watched MLB playoff baseball when I had a horse in the race, so to speak (i.e. the Cleveland American League Ballclub or Milwaukee). I am what you would call a casual baseball fan. I enjoy going to games more for the overall experience than for the baseball itself.
I'm a Milwaukee native, so the Brewers will always be my home team, and while my first ever Brewers game took place at County Stadium, American Family Field (Miller Park) has been where I've seen most of my live baseball.
There's a lot to like about American Family Field.
It's easy to get to. The field is centrally located in the city and convenient to the interstate. I think Milwaukee is also one of the relatively few cities where tailgating is almost a bigger deal than the game. Wisconsinites will tailgate before just about anything. I have even pre-tailgated at a park and ride lot before condensing into fewer cars to tailgate in the lot outside the stadium. Milwaukee also has a huge number of bars all around the city that run free shuttles to and from the game.
The stadium itself is cozy. I think it's the roof, but even when the roof is open the architecture of the ballpark makes it feel like you are away from the world at this event with a bunch of other people. Some stadiums have great views of the city or nature, but at American Family Field, you're there to take 3-ish hours as a break from everything else around you and just watch baseball.
There are also the uniquely Brewers things like the racing sausages (who raced in the parking lot when we attended due to COVID restrictions), Bernie's clubhouse and home-run slide, and Roll Out the Barrel. Baseball isn't really the same when you're missing the extras that give it heart.
The food, while not haute cuisine, is generally good. I don't think I've ever been to a game and been seriously disappointed by anything I've ordered, so that's saying something. If you drink alcohol, which I have occasionally been known to do, the drink options are easily more varied than any other park I've been to.
That does lead to the downside of the American Family Field experience, which is basically Wisconsin drinking culture. Fans are frequently over-served, and that can sometimes lead to an unfun experience. Experiences, after all, are mostly about who we share them with. The vast majority of fans at the game are great people (except on Cubs weekends, when most Brewers fans happily give up their tickets to make a few bucks and avoid that shitshow), but a select few can sometimes make it less pleasant.
Overall, American Family Field is a solid ballpark and one I will continue to enjoy going to over the years.
Grade
A-
Bill
As a fan of the Chicago Cubs, it's all too common to hear fans rag on the Brewers home park. I'll be honest, I've never understood the hate. From start to finish AmFam Field offers a tremendous gameday experience and really is an all-around pleasant place to take in a ballgame. Cubs fans can be salty, that's my take on the aversion a lot of them seem to have to American Family Field.
Though we didn't partake in it this time, there's always the allure of tailgating before a game at AmFam Field. The stadium also benefits from being in the heart of Milwaukee and easily accessible via shuttle from any of the local bars. That's typically our preferred method of conveyance to the games. Getting into the stadium is easy and once inside it's just as easy to find your seat and get to its location. Listen, I know people will find this silly, but I'm not at a baseball game to walk a marathon, so escalators are my friend.
There's no such thing as a bad sightline throughout the park. I've sat everywhere from right next to first base to the nose bleed section in right field. On this day we were situated in the third base upper deck and you know what, they were great seats where I didn't miss a second of the action. The seats themselves are ok, they don't hurt or anything like that but they aren't as accommodating as seats have been at other stadiums.
The atmosphere at AmFam Field is both charged and laid back. In a lot of ways, it's like Milwaukee itself. There are various conversations taking place as the action on the field unfolds. There's a slow hum to the proceedings until something big happens and then the stadium is brimming with life. I love the atmosphere at the stadium as I'm someone who likes to engage in conversations while the game draws me in.
The actual play on the field is major league quality so there's not much more to be said beyond that. The food though, well, it's the type of food that makes sense in Milwaukee. I'm sure there are plenty of more exotic options, but I tend to gravitate towards the old faithful of a brat, a soda, and either a pretzel or some cheese curds. The food is great, it's simple, but when that first bite of the brat hits as a game is taking place it's pretty darn close to heaven.
Overall, I love American Family Field. It will always be Miller Park to me, but either way, you can't beat the experience at the park. I love going and will continue to go for as long as I'm living in Milwaukee. Baseball and Milwaukee go hand-in-hand and American Family Field is a great representation of that.
Grade
A
Lead photo courtesy of Bill Thompson – Words Above Replacement